Ever wondered how your damaged chimney or tall brick wall could be accessed for restoration? Worry not, Donovan Masonry is here with a solution tailored specifically for your needs. Our services include professional scaffold erection services to access the heights needed to repair and restore tall structures like brick walls and the chimney. Crucial to note is that we do not outsource our scaffold erection services but do it ourselves as part of our company's professional practices. This implies that we can only erect scaffolding for our Ottawa clients who hire us for various services like chimney repairs and repointing, brick pointing, and stone pointing. We do not provide scaffolding for other companies as a third party. Therefore, we save on huge costs that would have otherwise been incurred when outsourcing materials and personnel to handle scaffolding for us.
We don't do scaffold erection as a hobby, as it is a business for us. With over 40 years of experience in masonry services like chimney repairs in Ottawa, we do not take any chances with our work, ensuring that we deliver the best to our clients. Restoring yesteryear has been the cornerstone of our service, as depicted by our slogan "Creating new faces for old friends." With fully equipped scaffolding materials and personnel, heights are not a challenge for us. We are innovative and use technologies like heated tarps to keep us running even during extreme seasons like winter.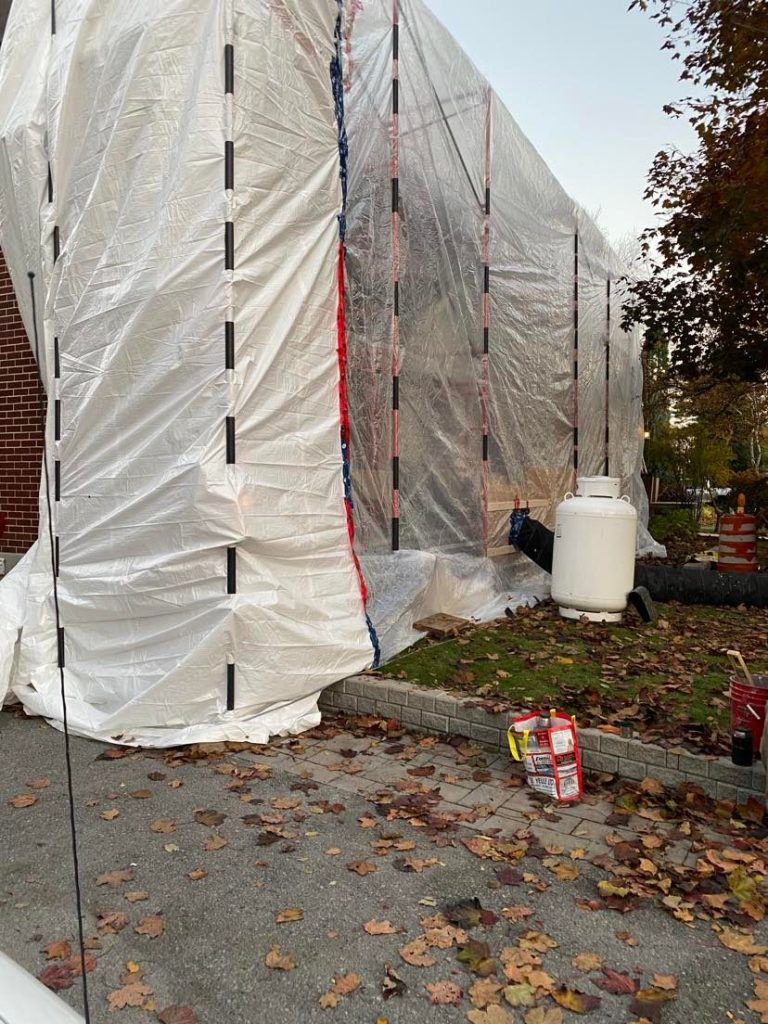 Through scaffold erection, our delivery of services like chimney repointing and chimney repair services in Ottawa has been meticulously conducted with complete craftsmanship. Our proactive approach and deep experience have helped our team manage complexities faced in different environments and locations, ensuring that we have remained accident free for over four decades now. We care about the health and safety of our experts just as we do for our esteemed clients. Working in a safe and conducive environment is one of the things that motivates people to work comfortably in their workplaces, ensuring that they give it their best.
Donovan Masonry has invested in industry leading scaffold equipment to enable us to provide people in Ottawa with the best scaffold access. Our scaffolding systems are efficient to work with because of their ease of assembling and disassembling, their strength, and their ease of transportation. We are blessed to have a professional and skilled workforce to deliver the most efficient and high-quality level of masonry service to our customers in Ottawa and neighboring areas like Manotick. Learn more about our scaffolding services by visiting our main website through the link provided above.
Thank you for taking your time to read this post. Feel free to contact us anytime you are in need of our services. You can also check our main website through the navigation menu above. Stay safe, dream bigger, and we hope to hear from you soon.