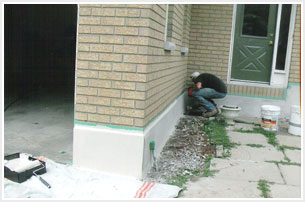 We are a trusted company in providing above grade foundation repair services in Ottawa Ontario.
For the past four decades, we have been reliable in repairing above grade foundations for our clients. Do not neglect any cracks in your above grade foundation. Contact us as soon as you notice any abnormalities in your home's above grade foundation. We will conduct a correct diagnosis of the above grade foundation problem and give you a professional solution.
Our staff is knowledgeable and experienced in above grade foundation repairs as we have a wealth of experience in doing this for the past four decades.
We understand that a proper above grade foundation is a priority for every house. Thus, with our expertise and safety practices in above grade foundation repairs, we promise to take care of your above grade foundation.
Above grade foundation cracks and wear can result from a number of different factors. This is why we first conduct an assessment of the situation to come up with a proper above grade foundation repair solution.
Foundation issues easily decrease the value of the house and lead to bigger problems over time if neglected. Consequently, it is vital that one keeps an eye on the foundation of their house and contacts Donovan Masonry immediately upon noticing any parts of the foundation that may need repair instead of putting their home at further risk.
The benefits of Foundation Repairs with Donovan Masonry
It boosts your home's value, especially when one is interested in attracting potential buyers. Something that may seem very minute on the foundation may cause a lot of damage to the house if not well repaired. As a result, the value of a house may decrease. However, through our experienced team, foundation repair is something we timely and accurately carry out, and this keeps your house in good shape.
Foundation repairs also makes you comfortable in your home. When the foundation of a home is damaged, cases of plumbing and flooding can affect your basement, which affects your personal comfort. However, this is an issue that we at Donovan Masonry adequately deal with to ensure your home's former glory is restored. Foundation repair, depending on the damage, requires individuals with skills and experience which we at Donovan Masonry have acquired over time.
Foundation repairs also saves you time and money. Small cracks in your house's foundation, if not repaired promptly, can cause extensive damage to your home. At Donovan Masonry, despite the amount of damage, we have the expertise to deal with the issue adequately and efficiently despite the weather in Ottawa.
Don't let your foundation Damages get worse
Contact us immediately if you think your house foundation needs repair. We care about your comfort and the state of your home. Contact us for a complimentary consultation and we will timely respond. We are always happy to help you.
We are a trusted company in providing foundation parging services in Ottawa. Donovan Masonry's foundation restoration work is very extensive. In the video attached below, Donovan Syryduk explains how foundation parging is done at Donovan Masonry. The blue part is a bonding agent that ensures all mortar applications stick well. Metal bars are drilled into the foundation to hold wire mesh which will be welded on them. This forms a strong foundation ensuring that the parging would not easily come off. Alternatively, you can watch the same video via the following YouTube link:  
At Donovan Masonry, we ensure that services rendered on foundation parging at our clients' homes serve a purpose other than decoration. Through the use of skilled personnel, we ensure that the parging protects the vulnerable areas of your house exterior from factors that may cause wear and tear. Cracks on your home's foundation may cause a lot of damage that may be costly to repair if not timely managed. That is why, at Donavan Masonry, we provide dependable foundation parging services to protect your property from inclement weather and to restore the beauty of your home.