We offer expert brick and stone repointing services that will give your home a new and amazing facelift. Get your entire home completely repointed as though it was new. We serve Ottawa Ontario. 
We professionally repoint bricks after confirming their quality. We do not necessarily replace bricks if their quality is good but rather repoint them to give them the amazing look that they once had.
Brick and Stone Repointing Process
During our brick and stone repointing process, we are mindful of mortar color so that it perfectly matches with your brick walls. We treasure your brick walls and we are always ready to bring back its glory.
Many times, over you will hear us speaking of creating new faces for old friends. Brick repointing is exactly what we mean. Donovan Masonry can achieve this for you. It is an investment in many ways.
Brick repointing serves to beautify your property as well as extending the life of the bricks. In our repointing process, we remove the old loose mortar and apply new mortar at a consistent depth making it a lasting repair.
Even if your wall has many fractures and holes in the mortar joints, we will repoint it completely. All work is done free hand. The workers right hand has what is called a hawk to hold the material on and iron rods called slickers or tuck pointers to apply the mortar.
How do you tell that your home or property needs brick repointing?
It is quite easy to check for various signs on your property to determine if there is a need for bricks repointing. Are there gaps that have begun to show between the brickwork and the mortar? Or does the pointing come out when you dig your finger into the joints between the brickwork at different points in your property?
 It is time to contact experts with the ability to put bricks back to life. At Donavan Masonry, we are equipped with a team of skilled individuals with the knowledge to repoint both interior and exterior bricks. 
Why should you contact Donavan Masonry for brick repointing services?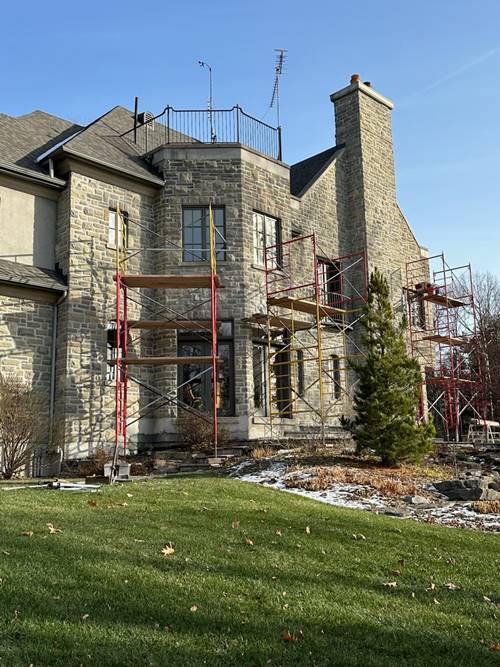 For every brick-pointing project that we have gotten at Ottawa Ontario, we have made it our priority, and our workmanship speaks for itself. We are big on ensuring customer satisfaction and that is why we timely respond and give expert opinion on what we think your property needs. The service we provide entails removing the existing motors that have deteriorated and replace them with new ones. 
We do this diligently and in a timely manner and this make your house look just like new. We use the latest mechanical brick repointing technology, and this aids our masonry team in providing stone repointing services professionally. The techniques we use also give a cleaner and stronger repointing, and this gives value to all our clients' money.
Over time, we have had a lot of loyal clients that have always loved our work. We efficiently make brick walls look brand new, and this has helped in increasing the structural integrity of many properties. By repointing, cases of heat losses in a home through the walls are avoided, and the mortar is protected from water ingress. Make your home more comfortable and even boost its value by choosing to repoint with Donovan Masonry.
 If the motor of your house has started eroding or crumbling, we at Donovan Masonry, through brick repointing, will be able to correct that and restore your former glory because a properly completed repointing job preserves the structure's integrity for years. Contact us today for various repointing services for your home or property.