Chimneys are a prominent feature for houses in Ottawa, Canada, and throughout the world, but they carry a certain amount of risks. If taken care of correctly, chimneys can be an effective part of your home. But improper care can fuel some risks, leading to pricey repairs or even chimney fires. To prevent harm, it's important to know what things can wreak havoc on your chimney.
Things that could damage your chimney
Mother Nature is the most common cause of chimney damage. Extreme weather situations and snow have enough capacity to stink and crack mortar and bricks around your chimney. Mortars, bricks, and other materials that are used to build a chimney wear and tear over time.
Another cause of chimney damage is substandard masonry. Sometimes, masons may not have been keen enough to properly mix sand and mortar in adequate ratios, or did not allow the chimney enough time to cure. When such a chimney is subjected to extreme weather situations, it develops cracks which eventually causes the chimney to be structurally damaged and fall apart.
Why should you trust Donovan Masonry for chimney repairs in Ottawa?
If you want the best and most dependable services from a chimney repair expert in Ottawa, you need to work with a company that opened its doors to the community a long time ago. With over four decades of experience in the field, we are a leading authority Ottawa region for chimney repair, chimney rebuilding, and chimney repointing services. To date, we have successfully repaired thousands of chimneys, providing our customers with peace of mind. The difference between what we do and other companies is that our service is tailored to your chimney in particular. Our chimney repair procedures will follow your recommendations. This advises us to treat your chimney in the best way possible as per your directions backed with our expertise.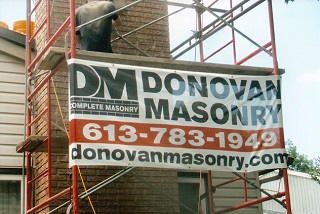 Chimney cleaning, sweeping, and repointing services in Ottawa
At other times, your chimney's glitter may be obstructed due to a buildup of environmental materials around it. This does not necessarily mean that your chimney is damaged but if left unattended for a long time, the materials attached to the chimney may start corroding the mortar and brick causing the chimney to fall apart. But before things take a wrong turn, we are here to help save your chimney through our Ottawa experts in chimney sweeping, chimney cleaning, and chimney repointing to bring back your chimney's lost glory.
Chimney Repair Service in Ottawa
If you are an Ottawa resident, you do not need to worry or wonder about what will happen to your damaged chimney. Donovan Masonry is here to repair and fix your broken chimney. Other companies may be quick to tear down the whole chimney because there is more profit in a complete chimney rebuild compared to repairing. However, we are different from them. Upon being called by a client, we conduct a free inspection of your chimney to come up with an informed decision on whether to rebuild or repair your chimney. Our team has a proven track record of providing the best and safest chimney repair service in Ottawa for the best value in the last four decades.
Chimney rebuilding service in Ottawa
Sometimes chimneys may be structurally damaged beyond repair. Such scenarios call for complete chimney rebuilding. If the structural damage is too far gone, Donovan Masonry's Ottawa chimney tradesmen can tear down the whole chimney, replace broken materials, repair usable materials and reassemble the chimney. Do not hesitate to call us when you notice physical indications of deterioration like loss of original color or cracks on your chimney.
Materials used for chimney repairs in Ottawa
Some of the materials we use for chimney repair in Ottawa include brick, stone, block, sand, and mortar. We don't believe in using classic materials like corroded iron or traditional cement which can be harmful for the health of your chimney, its glory and the pride of the home that you live in.
When we repair your chimney, we ensure the consistency in the material used so that your chimney's appearance matches that of your house. One cannot even tell the repair because we source materials like bricks from your previous supplier or one who manufacture similar bricks. In other cases where a manufacturer discontinues to make a particular brick for a few years, then we have to use something that is close to maintain the consistency.
As previously mentioned, our company uses scaffolds to access structural heights and chimneys are no exception. Safe practices in scaffolding is part of our success in chimney repairs as it not only enables our tradesmen to access the chimney but also eases the movement of tools and materials required in the chimney restoration process.